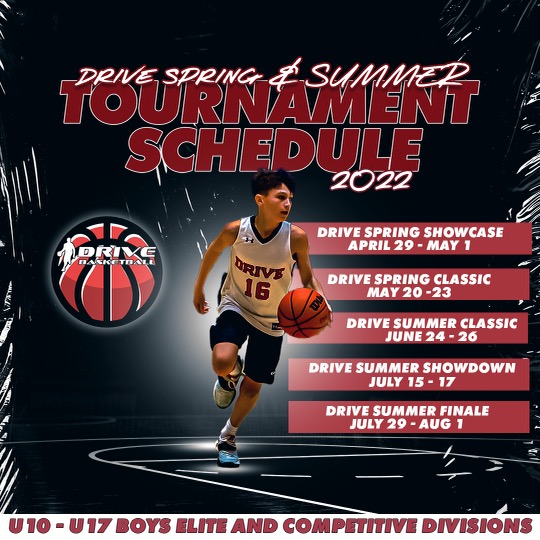 DRIVE Spring & Summer Club Tournaments – 2022
We are excited to announce our lineup of tournaments for this Spring & Summer Club season. All tournaments include U10-U17 Elite & Competitive Divisions. There are multiple event discounts available.  All Games will be live streamed and on demand on BallerTV.  All game schedules, scores and standings will be posted on the DRIVE Basketball App. All events will be at the Richmond Olympic Oval, Surrounding Richmond Schools and/or Langley Event Centre.  We are looking forward to a great Spring & Summer Club Season!


DRIVE Tournaments will include the following:
–  Opportunity to compete against some of the best players in BC.
–  Certified refs & Scorekeepers
–  4 game minimum 
– Winning teams will get Championship shirts
–  Variety of divisions and championships for all levels of teams. 
– Streaming will be available for College Coaches and Parents.
 – Our Streaming service provider will be Baller TV (https://www.ballertv.com). They will stream and catalogue each game and it will be made available on their app and website.    
– To register or for any questions about  the DRIVE Tournament Schedule please email chad@drivebasketball.com 
DRIVE Spring & Summer Tournament Schedule  
DRIVE Spring Showcase
April 29-May 1
Location: Richmond Oval
Local gyms
DRIVE Spring Classic
May 20-23
Location: Richmond Oval
Local gyms
DRIVE Summer Classic
June 24-16
Location: Richmond Oval
Local gyms
Athlete Ages & Eligibility for Spring & Summer 2022 EVENTS
Teams that do not follow our age & eligibility guidelines will be forced to forfeit their games.
ALL PLAYERS will be required to show proof of birthdate with some form of government identification AT THE EVENT (ie: birth certificate, passport, driver's license, etc). Players without identification will not be permitted to play. 
U10 – Grade 4 
U11 – Grade 5
U12 – Grade 6
U13 – Grade 7
U14 – Grade 8
U15 – Grade 9
U16 – Grade 10
U17 – Grade 11
U18 – Grade 12 can play if they are graduating high school in 2022
Please Note: Players who are born Sept. 1 to December 31 are eligible to play in their division or play "Down" an age group. For example a player in Grade 9 who's born in November can player U14 or U15 Division.
​